Self Adhesive or Double Sided Tape: How does Tubeway know what to advise customers?
Sticky tape is a familiar household item. Stick notes onto your fridge, wrap parcels, conduct minor repairs and 101 other household chores, all you do is stick one end down, pull as much as you need off the roll and apply gentle pressure. Easy and clean.
Self adhesive tape is just as familiar in parts of industry. Rather than sticking over something, this sticks between two items, bonding them together. The tape also comes on a roll, you apply it in much the same way, but the backing is then peeled away to reveal a second surface of adhesive, which sticks to another item for a quick and simple union.
Tubeway Sales Ltd stock and sell a great range of self adhesive tapes, different widths, thicknesses and purposes. These we use on a number of our products, such as Secondary Glazing systems, and they can be applied to our extruded profiles, whether stock or made to order. Common uses would be taping Angles for use as corner protection on walls, Double Tracks used for kitchen cabinets or attaching LED Mounting profiles to the underside of cupboards, but there are many other examples we could have picked.
The tapes are either made of pure adhesive, or more usually they have a core or substrate material (such as foam), coated on both sides with the adhesive, to give them more body. This is often necessary, allowing the tape when compressed to get into an uneven or textured surface, while the thinner pure adhesive tapes are more suited to two perfectly flat clean surfaces. As well as these common types, there is another that is worth considering; high mass tapes have a gel-like core, giving them impact resistance along with their excellent adhesion and temperature resistance.
There are plenty of technical considerations when it comes to choosing tape; storing it properly, preparing the surfaces, keeping your fingers out of the way when applying, giving it time to set, and so on. You'll want to read about these aspects, so to assist we have prepared some neat, summary PDF's:
Tape Testing. This describes as many different surfaces as we could find, and which tapes successfully adhered to them
How To Apply Tape. A simple step by step guide in pictorial form
Adhesive Tape FAQ's. All the other relevant bits of information are tidied up here
The PDF's are available on this page of our Extrusions website, worth a look!
That is the serious stuff out of the way. Tubeway can advise you which industrial tapes are best suited to which surfaces. So how do we know? What makes us certain enough to advise that you should use foam or high mass tapes for sticking our plastic angles to untreated timber, but use polyester tape when sticking it to bare metal when you don't want a visible gap? It is a simple answer; we've tested every one of them. This is the story of how this happened…..
1) Set clear criteria for passing or failing a test
When you stick a corner protection angle to a wall, you want it to stay there for years. It is accepted that you might be able to prise it off with a screwdriver, but if you can get it off with your bare hands it is not stuck well enough. If you are sticking plastic to a brick, success is holding the brick by the plastic directly over your feet, and shaking vigorously, without it detaching – you really want to know if it is going to fail with a little obvious encouragement.
2) Set aside some space and some time
Tubeway tests were usually prepared before the weekend then left in the office and pulled apart (or not) the following week.
3) Get hold of different types of tape, all in the same width
You want a fair comparison, ideally with the same size piece of plastic and the same surface area of adhesive on the tape. Tapes often have different coloured liners to make them instantly distinguishable, but if not, label them properly before starting. Remember if you are testing two versions of the same tape (existing supplier v new supplier) that once the liner is removed you may not tell the difference, so label the plastic with the right details. This is what you might now have: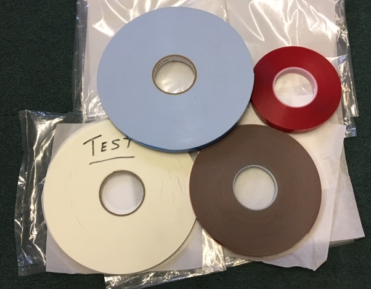 4) Assemble all the different materials to be tested
This was quite fun, for an office worker. Having made a comprehensive list, trying to think of everywhere our customers might want to stick things, we first searched the factory for unwanted bits lying around, then we went out onto our industrial estate to scavenge, picking up brick, concrete, breeze block and anything else that we wanted. There was a particularly clean-looking brick lying on a verge, right next to an undersoil wasps nest, so we made do with another one elsewhere, and cleaned it a bit instead.
The final phase, having exhausted the cheap and quick options, was to ask all our colleagues if they had a spare roll of wallpaper or piece of glass at home? Might as well be thorough…..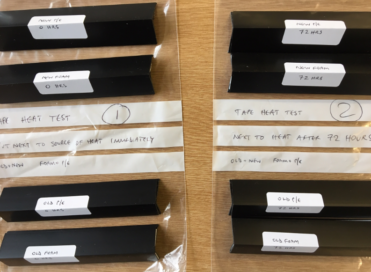 5) The actual testing
There are no magical skills for this, just do everything the same for each tape, label up clearly, leave things where they won't be disturbed, stop people picking or fiddling. Leave a note for the office cleaners explaining not to touch! In short, be methodical and patient, as we did with these:
6) Record the results
Note that the results should never be "what you want them to be", if a product fails, it fails. Get over it and improve it or find a better alternative!
The main thing is to keep decent records to avoid having to recreate a carelessly run test.
7) Publish and be damned!
Tubeway first performed this level of adhesive tape testing back in spring 2016, in response to fairly consistent customer queries. Our tapes have always been very good performers, with the range giving options and speciality tapes for particular surfaces and situations, but in 2019 we decided to benchmark what we had against alternatives. Old and new versions duly used, newer "low surface energy" tapes selected for testing as well, and as a result we have been able to improve the range a little – a worthwhile outcome.
Meanwhile, the results of our testing, in an easily understandable format (we hope in plain English), are back on all our websites, for your assistance.
8) Keep all the test materials
Apart from avoiding having to source new surfaces each time, by keeping what was tested, especially the successful tests, you can come back to them in a few years and confirm that the bond is as strong as ever. Obviously we can't leave them strewn around the office, so we have boxed them up to store somewhere safe in our warehouse: