The puddle on the Window Sill
As a child, it wasn't hard to tell when winter had properly set in. That first morning, waking up to a misted over window and a puddle on the sill was a dead giveaway. So you dutifully write your name in it with your finger, or draw a shape or two, or maybe send a message to the girl next door (her name was Vicky, but her parents called her Victoria…), but after a week or so it isn't much fun.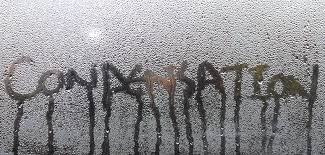 Let's do the technical bit first. Water evaporates when heated, and warm air can carry this moisture, but when it meets a cold surface, the cooling air releases the damp which will form water droplets. As the coldest surface in a winter room is usually the window panes, you get a familiar result.
So where does the moisture come from? In a typical house people breathe, take showers and baths, wash/dry clothes and cook, so moisture is being chucked into the atmosphere all the time. You can limit moisture a little, putting lids on saucepans, using extractor fans or opening the bathroom window after a bath with the door firmly closed, but realistically, houses are generating damp every day.
At this point, as we are suppliers of fine window insulation products, for example secondary glazing systems, you may expect us to burst into song and claim that using one will solve your problems. But no! It doesn't, because although you can wake up to a secondary glazed bedroom where the windows are condensation-free in winter, the moisture in the air has not disappeared, it has either been retained in the warmer insulated air or it has gone onto the next coldest surface, such as the wallpaper (and will eventually manifest itself in black mould on the ceiling…). So go ahead and reduce energy bills with secondary glazing, but be wise and keep an eye out for damp as well.
So you still need to ventilate, dear Reader, letting the moist air out, but to avoid letting cold air in at critical times, stick to doing this in the daytime instead. Otherwise, you can run a de-humidifier, which takes the moisture from the air for it to be poured down the sink.
If you want more information on this subject, we have a video on our website at www.tubeway.co.uk/easyfix-diy/secondary-glazing/condensation.html
One word of caution, if you think your condensation is being caused by water coming through the walls, or a leaky pipe, don't muck about with the windows, get it dealt with professionally and quickly.