10 - 15mm Plastic Render Bellcast Bead 10mm White 25 x 2.5m RPBC10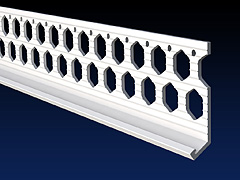 10mm Bellcast bead in White, also know as Plastic Drip Beads, these beads provide impact protection whilst also deflecting rainwater from the render, providing a straight edge just above the Damp Proof Course (DPC). Strong and discreet these plastic bellcast will outlast all metal alternatives and can be used with all render types up to heavy sand and cement.
BBA Approved, these rigid profiles are high quality, leading to quick and easy onsite installs.
To view the Corner Beads, Stop Beads or Movement Joints to use alongside this 10mm Bellcast Bead, Click Here
Group
10 - 15mm Plastic Render Bellcast Bead
Code
RPBC10
Colour
10mm White
Pack / Unit
25 x 2.5m
Current Stock

20

Packs
Price

£

61.40 ex VAT

£

73.68 inc VAT
20 in stock
Nett Priced Product
Sorry but we are not able to offer discounts on these products.

Have a question? Ask our helpful team