6 - 10mm Plastic Render Movement Joint 10mm White 25 x 2.5m RPMJ10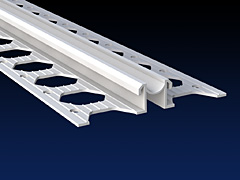 10mm Movement Joint in White, these plastic expansion joints allow for structural movement and thermal compression preventing render from cracking. These Plastic Movement Joints allow render movement of +/-2.5mm as certified by the BBA.
BBA Approved, these rigid profiles are high quality, leading to quick and easy onsite installs.
To view the Corner Beads, Drip Beads or Stop Beads to use alongside this 10mm Movement joint, Click Here
Group
6 - 10mm Plastic Render Movement Joint
Code
RPMJ10
Colour
10mm White
Pack / Unit
25 x 2.5m
Current Stock

7

Packs
Price

£

138.80 ex VAT

£

166.56 inc VAT
7 in stock
Nett Priced Product
Sorry but we are not able to offer discounts on these products.

Have a question? Ask our helpful team