6mm Plastic EWI Reveal Bead with 100mm Mesh White 30 x 2.5m RPRB6M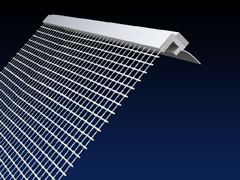 6mm EWI Reveal Bead with 100mm Mesh, also known as an APU Beads, these reveal bead is used to prevent damage to window and door frames during rendering applications. Intended for use alongside all External Wall Insulations (EWI) and External Termal Insulation Systems (ETICS).
BBA Approved, these rigid profiles are high quality, leading to quick and easy onsite installs.
To purchase the Fixing Pins to secure this bead into Insulation Panels, Click Here
Should your job need any Corner Beads, Stop Beads, Bellcasts or Movement Joints to use alongside this 6mm EWI Bead Bead, Click Here
Group
6mm Plastic EWI Reveal Bead with 100mm Mesh
Code
RPRB6M
Colour
White
Pack / Unit
30 x 2.5m
Current Stock

8

Packs
Price

£

101.80 ex VAT

£

122.16 inc VAT
8 in stock
Nett Priced Product
Sorry but we are not able to offer discounts on these products.

Have a question? Ask our helpful team