Tubeway and Star Wars – our role in Intergalactic Warfare
In the unsexy world of plastic extrusions, you'd be forgiven for thinking that nothing we ever supply to customers is worth getting excited about. On the whole, you'd be right of course, but every now and then in a galaxy far far away…….
Sit tight and we'll reveal the whole story, of how a small manufacturer in sleepy Ipswich got involved in the Intergalactic Warfare industry.
Our involvement seemed to start in 2013, when we were contacted by a theatrical Prop making company based at Shepperton Film Studios near London. They were after some of our T Track, a largely defunct component for helping kitchen drawers slide in and out. Samples were provided and the propmakers were satisfied, this was the product they wanted. The Tubeway Blogger, like any half-decent salesperson, asked what it was for, and discovered it was a "cooling fin" for a Star Wars gun.
A gentle negotiation took place, we exchanged a couple of bundles of T Track for a replica gun, and became good buddies with our customer. Over the next 3 years we continued selling the Track, and if our sums are correct, sufficient for about 930 guns (or a considerable Imperial Stormtrooper army). You might think us remiss, but we never bothered to ask which of the recent Star Wars films our product was appearing in, being happy to bask in the vague reflected glory of the genre as a whole.
The replica gun still sits in our sales office, being used for the occasional low-key photo shoot, and once making the trip to a local school for "show and tell". In fact, there was nothing more to the story than that, i.e. no big deal, until late 2018, when we began to realise our Intergalactic role might be more than hitherto understood.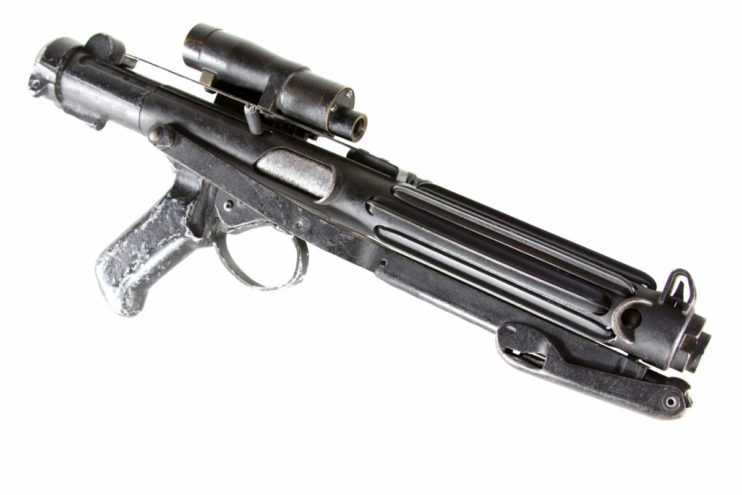 A chap from Canada emailed us, asking about the T Track. In the course of our correspondence, we jokingly referred to the link to Star Wars, and he replied that he knew this already, and that this was the purpose of his enquiry. He put us in touch with an American company who specialise in authentic and period war film props, who wanted to explore how long Tubeway had been making this Track, whether the design had ever changed, and a few other things besides.
Now speaking as a bloke who doesn't know the difference between a Sith or a Klingon (having never dated either), and who had but a passing  interest in the Star Wars films in the first place (first one was good but not fussed about the others), this was always going to be a challenge, but little by little we worked out a few more juicy details as to the cooling fins and their origins.
So here are the details. In the mid 1970's, a propmaker attached to Shepperton Studios (where Star Wars was largely filmed) probably popped down to the local hardware store, looking for bits to stick onto a gun, to make it look more high-tech. Either way, some T Track was used as cooling fins on the original guns, or to be more precise the Advanced Cooling System that made them such a reliable and superior weapon for the evil Empire. Unfortunately, Tubeway established beyond doubt that the 1970's T Track was not ours, simply because it is very slightly different from our design. We checked our own catalogues and drawings, and also had a closer look at our own gun – nope, not ours. It might be bad news for the purveyors of genuine replica parts, but it was actually good news for us, as we realised that the gun we had been sent in 2013 was not one made using our parts, but in fact was a lot older, and by examining pictures and reading descriptions, corresponds exactly to the original guns used in Star Wars IV: A New Hope, and part V The Empire Strikes Back – it seems when our customer agreed to send us a gun, instead of one they had just made and could sell, they gave us an old one they had lying around.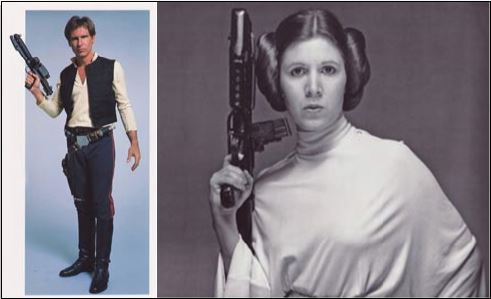 As an aside, although Shepperton also made Alien, Bladerunner and a couple of Harry Potter's, they also did Muppet Treasure Island, Bend it like Beckham and The Boat that Rocked, so it's not all glamour and high art.
If Tubeway didn't make the T Track, do we know who did? Well we think we do. In addition to keeping our old catalogues and brochures, we had kept those of our competitors, so we found that one of them did indeed make T Track to what looks like the exact dimensions on our gun. Satisfyingly, this company no longer exists, long gone in fact, not even making it to the year 2000.
Having started out with only a peripheral interest in Star Wars weaponry, having to research on behalf of our transatlantic friends and again for this blog, we have developed a much fuller grasp of what we now know is an E11 Blaster, made by the fictitious BlasTech corp for Darth Vadar and chums. The imaginary specification gave it 3 operational settings (lethal, stun or sting), with enhanced accuracy, performance and reliability from the previously mentioned Advanced Cooling System. The Blasters used in the films were of 2 types, as some did discharge smoke and casings, but as these also required an Armourer to be permanently on set during filming and needed a firearms permit for import or export, they were swamped by the more common no-moving-parts "non-gun" versions, which is what we've got. Simpler and safer, and like the light sabres, special effects can be used to simulate firing.
Thanks to Jason and his excellent blog for much of this information, well worth a look  http://www.originalprop.com/blog/movie-guns/star-wars-episode-iv-a-new-hope/
Other fun facts – the design is based on a Sterling sub machine gun (check it out), and the guns had a reputation of having bits fall off on set, so that there are some mismatches of equipment in the films. We can bear out the last point, as our Blaster lacks the forward gunsight, but the glue where it used to be stuck is clearly visible.
By the way, if anyone out there has Luke Skywalker's light sabre, it apparently also features T Track, so we'd be happy to confirm if that was ours or not!
The last word goes to the child within us all – who wouldn't want to pose with a Star Wars gun? Form a queue to the left, I'll get to you when I can…..